Stuffed Eggplants a la Vidalia®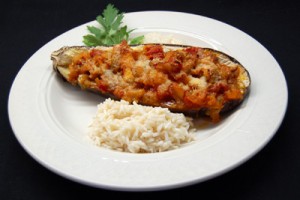 Ingredients
• 2 large eggplants
• 2 tablespoons olive oil
• Salt & pepper to taste
• 1 ½ pounds Certified Extra Sweet™ Vidalia® onions (about 3 cups)
• 1 28 oz can diced tomatoes, undrained
• 2 packs saffron, ground or thread (.014 oz per pack)
• ½ teaspoon ground cumin
• 4 tablespoons grated Parmesan cheese
Preparation

Eggplants:
First, place rack in middle of oven and preheat to 500ºF. Next, cut the eggplants in half lengthwise. Take a small knife and hold it by the blade to guide the depth of the cut. Cut out the pulp of the eggplant leaving a ½ inch uniform thickness to create an eggplant "boat." Cut the pulp that you removed from the eggplant into cubes and set them with the eggplant boats on a baking tray. Sprinkle everything on the tray with 1 tablespoon olive oil, season it with salt and pepper and bake the eggplants for about 15 minutes or until lightly browned. When finished let the eggplant cool on the tray.

Filling:
Peel and halve your Vidalia® onions from top to bottom and cut them into strips. Heat 1 tablespoon olive oil in a frying pan and sauté the onions in the olive oil until they just start to caramelize. Add the tomatoes and lower the heat. Season with the saffron, cumin, salt and pepper. Let your filling simmer for 5 minutes. Then stir in the baked pulp of the eggplants and simmer the filling for another 5 to 10 minutes on medium to high heat. Add water if necessary. Add salt to taste.
Bringing it together:
Generously stuff the eggplant boats with the hot filling and sprinkle each with 1 tablespoon Parmesan cheese. Bake in preheated 500ºF oven for another 10 to 15 minutes or until the cheese is golden brown.
Yield: 4 servings