Sweet Vidalia® Onion Panzanella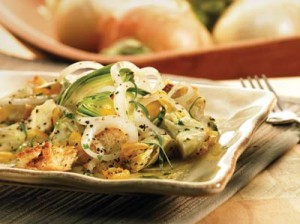 Ingredients
• 1 Vidalia® onion, peeled and sliced into 1/-inch rings
• 6 yellow or red Roma tomatoes, diced
• 8 canned artichoke hearts, quartered
• 1 clove garlic, peeled
• 1 baguette, torn in 1-inch pieces, lightly toasted (about 4 cups)
• 2 tablespoons chopped fresh chervil (1 tablespoon dried)
• 1 tablespoon whole tarragon leaves
• 1 tablespoon chives, snipped into ½-inch lengths
• Salt, pepper and sugar to taste
• Vinagrette (recipe follows)
Vinagrette
• 2 tablespoons sherry vinegar
• 2 teaspoons honey
• 1 teaspoon Dijon mustard
• ½ teaspoon salt
• ½ cup extra virgin olive oil
• Freshly ground black pepper to taste
To prepare vinagrette
In a small bowl, whisk together vinegar, honey, mustard, salt and pepper.
Makes 2/3 cup.
Preparation
Thoroughly rub inside of large wooden salad bowl with garlic clove. Discard garlic. Add toasted bread. Top bread with tomatoes. Season with salt, pepper and a pinch of sugar. Add artichokes and onion. Add chervil, tarragon and chives; toss lightly.
Add vinagrette and let sit at least 15 minutes before serving, tossing occasionally.
Yield: 8 servings
Recipe and Photo Courtesy of Vidalia® Onion Committee.