Hot and Spicy Cucumber Salad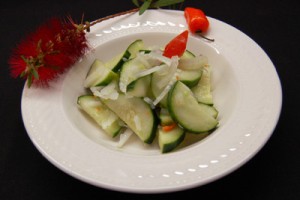 Ingredients
• 1 large cucumber
• ½ small Certified Extra Sweet™ Vidalia® onion, peeled and quartered
• ½ small red chili pepper (1 teaspoon)
• 1 cup rice or white distilled vinegar
• ½ tablespoon sugar
• Salt & pepper to taste
Preparation
Wash the cucumber and cut it in half lengthwise. Scrape out the seeds with a teaspoon (for a different look, peel off single strips of the cucumber skin). Then slice the cucumber into moon shaped 1/3-inch thick pieces. Cut the Vidalia® onion into fine strips to match the size of your cucumber pieces. Place everything in a salad bowl.
Then halve, deseed, and chop the red chili pepper into tiny little squares.
Note: If you own surgical gloves, this is the time to wear them. If not, make sure to wash your hands thoroughly after working with the chili pepper.
Add the chili pepper to the bowl and finish your salad with the vinegar, sugar and a pinch of salt and pepper. Stir and chill for at least 10 minutes.
Yield: 3-4 servings