Vidalia® Sweet White Onion Soup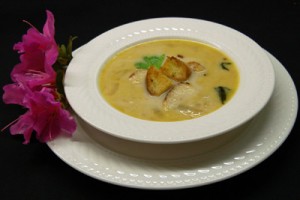 Ingredients
• ½ pound Certified Extra Sweet™ Vidalia® Onions (about 1 ½ cups)
• 3 tablespoons olive oil
• 1 quart beef broth
• 1 leaf fresh basil or pinch of dried basil
• Salt and pepper to taste
• ½ cup heavy cream
• Italian parsley, croutons (optional)
Preparation
Peel the Vidalia® onions then chop them into fine strips. Next, heat up a 4-quart sauce pan to fry the onion.
Then, add the olive oil and onions and begin to stir. Sauté you onions but don't let them get any color. The onions should be translucent, not caramelized. Take the pan off the heat for a moment if the cooking process goes too fast.
Finally, stop the frying process by adding the beef broth to your onions and bring it to a boil. Drop in the basil leaf and let the soup simmer for about 10 minutes. Season to taste and round out the flavor of your soup by stirring in the cream at the end.
Yield: 3-4 servings